As we get older our nutritional requirements continue to develop. Illness, hormone changes and social needs mean that catering for the elderly needs to be much more than just delivering tasty meals. Instead we should focus on delivering quality food that nourishes, protects and enhances well-being. The question is: where do we start?
An ageing population means we need to focus on nutrition
The older adult population is the fastest growing age demographic and is expected to increase by 20 per cent by 2050. Life expectancy is also on the rise.
However, the ageing population usually requires the most support from both the health and social care sectors. This makes it vitally important to consider food requirements for elderly or older people in care homes and in hospitals.
And although providing tasty, delicious food is important, care providers need to remember the importance of serving older people dishes with real nutritional value.
What are the nutritional requirements for older people?
Determining the right nutrition for older adults varies based on age and medical conditions. However, one thing is clear: eating a healthy, balanced diet plays a crucial role in promoting good health and ensuring daily nutritional targets are met.
This is all the more important in older and elderly people, as they tend to be more susceptible to nutritional deficiencies. This can be due to a poor absorption of essential vitamins and nutrients, or simply because their diet is not diverse enough.
Combating and preventing malnutrition through nutritious food
You can combat and prevent malnutrition by serving tasty and nutritious meals to those who are most at risk. This involves providing a varied menu which encourages a healthy balanced diet and includes food from the main food groups, including:
Plenty of fruit and vegetables

Starchy foods such as rice, potatoes, pasta and bread

Some milk and dairy products

Sources of protein such as meat, fish, eggs and beans
At apetito we pack all our meals with quality and nutritious ingredients. All our meals for those at risk of malnutrition are created by in-house chefs and dietitians to guarantee they're as delicious as they are nourishing.
Why taste is important—but not for the reasons you might expect
As we get older, our ability to taste declines. This is because taste buds take longer to regenerate, and saliva production slows down with age. Certain medications can also impact taste.
Understandably, this impacts a person's enjoyment of meal times, even leading to a reduced appetite. This can quickly make it tough to ensure older adults are getting all the nutrition they need.
That's why improving taste perception can make a real difference to meeting the nutritional needs of elderly people in care.
How to improve taste perception for older adults
1. Add variety to your menu
Providing a variety of meal options in care homes and hospitals can help overcome challenges with taste perception, appetite and nutrition.
For example, care homes can hold regular tasting sessions to showcase the variety of options available. Residents in care typically eat a select range of foods which can lack in diversity, and can cause them to become disinterested in food choices.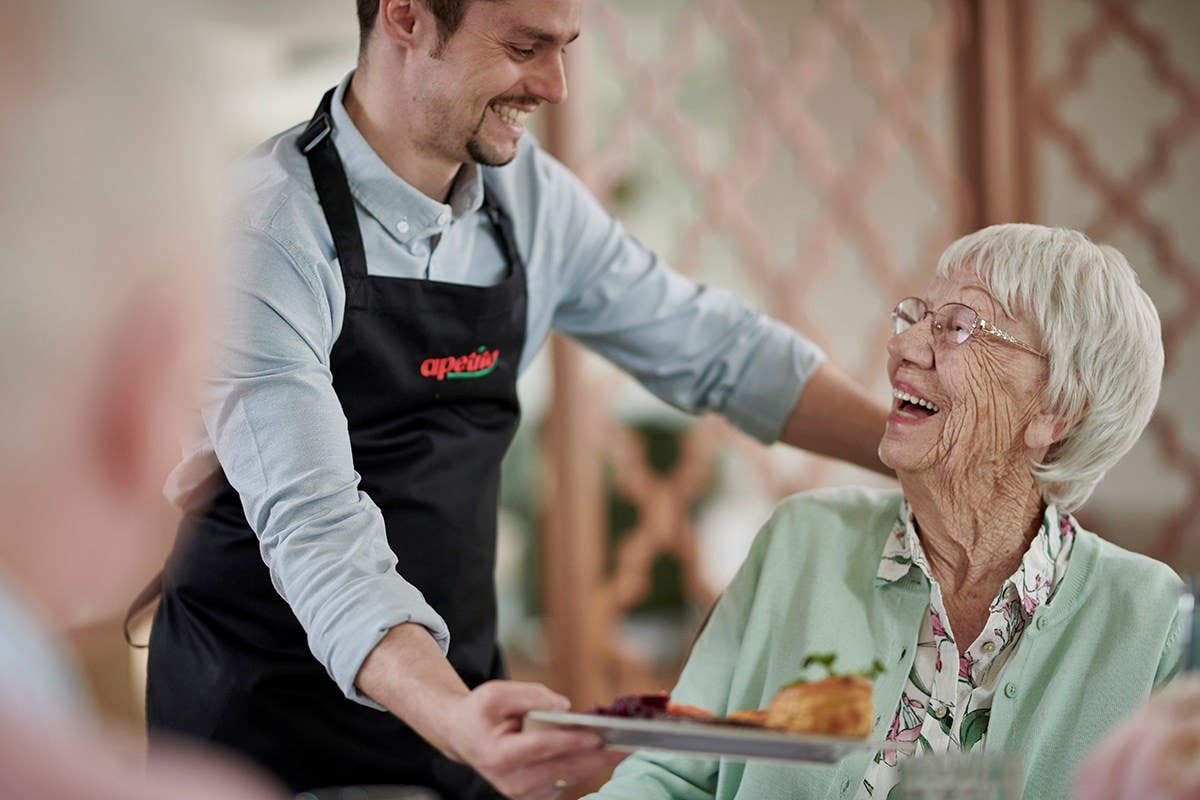 Including them in tasting sessions can be a great way to learn what other dishes they would enjoy being introduced to the menu, without having to place orders for meals before knowing they will be eaten.
2. Provide flavoursome options
Although our ability to taste may fade while we age, it doesn't disappear overnight. In fact, taste perception can be enhanced to help improve appetites.
Serving flavoursome options containing aromatic ingredients such as garlic, onions, lemon, lime, mustard and a variety of spices is a great place to start. In addition, it is recommended that care homes develop 4 week menu cycles rather than 1 week or 2 week menu cycles to prevent menu fatigue.
For residents with smaller appetites, energy dense meals can be a great offering to ensure they are getting the nutrients and flavours they need.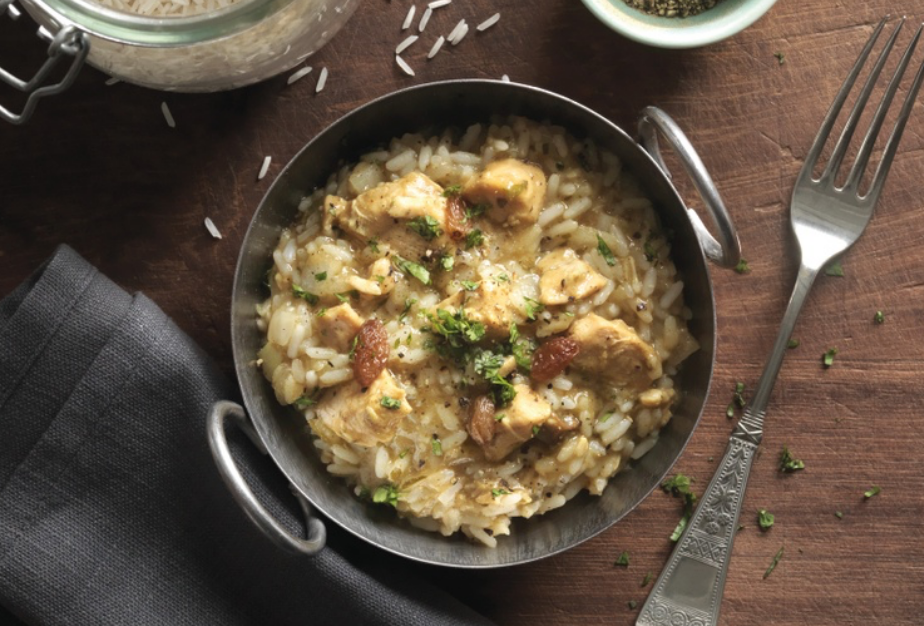 3. Train staff in plate presentation
Appearance, texture, temperature and dining settings have become all the more important in encouraging care home residents and hospital patients to eat more regularly.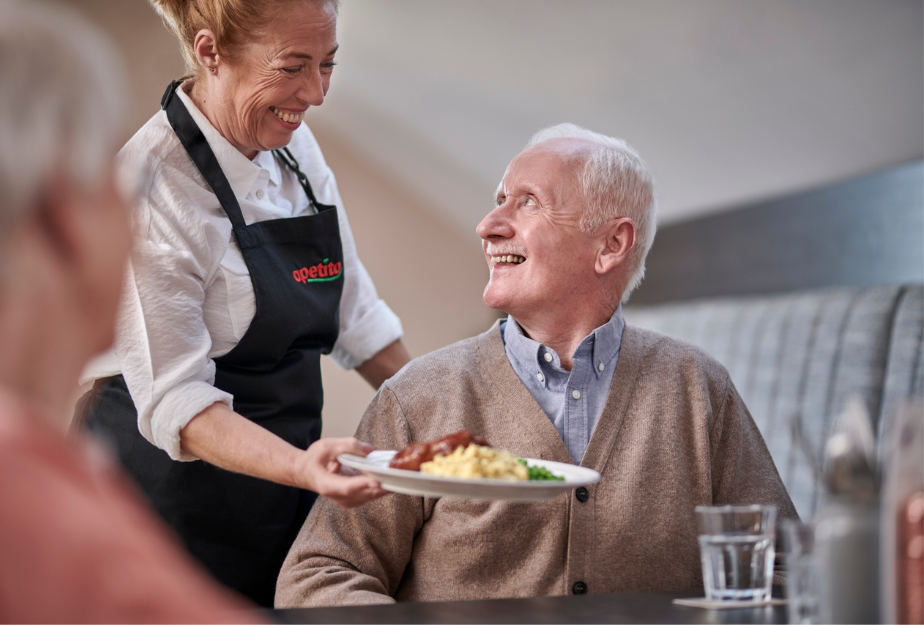 Plate presentation in particular helps to stimulate the appetite of residents and patients. A simple garnish can play a significant role in the visual appeal and perception of a meal, and can easily be achieved with simple plate presentation training for staff.
4. Transform mealtimes into a dining experience
Care homes looking beyond plate presentation training to improve residents' appetites should also consider making small changes to their dining experience. Creating dementia-friendly dining experiences through simple changes can make it far easier for those with dementia to enjoy mealtimes and get the nutrition they need.
How we help you balance taste with nutrition for older adults
We're passionate about ensuring the residents in your care are enjoying delicious meals that give them the nutrition they need.
Tailored tasting sessions
Industry-leading knowledge
Our in-house Chefs and Dietitians input on every single meal we create to ensure they are packed with nutrition and flavour. Each meal is then clearly labelled, so you can ensure older people in your care are getting exactly what they need.
Innovative solutions to elderly nutrition
Our pop-up restaurant for dementia-friendly dining in care homes is designed to think beyond the plate to help those living with dementia enjoy mealtimes while getting the nutrition they deserve.
We also offer a Mini Meals Extra range designed for people with smaller appetites. These meals are energy dense ensuring they are getting the nutrition they need with manageable portions.
The combined expertise of our chefs and dietitians has also helped us create our award-winning texture-modified range. Carefully crafted to meet IDDSI standards without ever compromising on flavour, it's the perfect way to help older people with dysphagia enjoy mealtimes again.
Whatever your needs, we're here to help
---
For further information please contact: