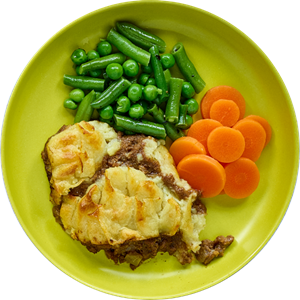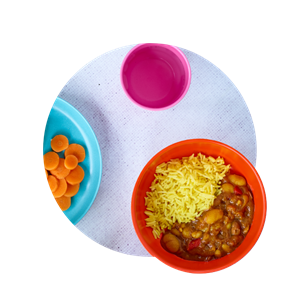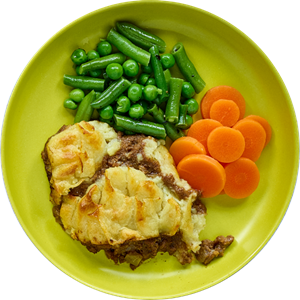 How it works
---
How does your service work?
You'll be fully trained on how to use our service, from cooking the food to plate presentation, recording temperatures and portion control. We also provide best practice support to help with your menu planning.
Our simple online portal allows you to plan menus, review nutritional content and place your order with apetito. Once you've placed your order, we'll deliver to you on an agreed day. On the day, our friendly team will deliver your meals for free – it's that simple!
Watch our video below to find out more about how the service works, from ordering to serving up delicious meals to your little ones.
---
Can I try your food before becoming a customer?
Yes, we absolutely insist on it! We know our food speaks for itself which is why we offer a free sample tasting session to provide you with an opportunity to try our food.
We will either attend in person or during current circumstances, send you some free samples instead. Full details will be discussed over the phone prior to the tasting and during this time we can also discuss any equipment that may be required.
---
I don't have much space within my setting – can I still use your service?
Absolutely, our nursery meal service requires minimal kitchen space. As part of becoming a new customer you will receive an on-site visit, where we can support and advise on best practice based on the size of your setting. We can also advise and provide equipment should it be required.
---
How quickly can I use your service?
We can get you up and running within two weeks. Before starting with us, we will come to your setting to conduct a food sampling session. This gives you the confidence and reassurance that the food you're receiving meets the needs of your children.
This is typically undertaken with a manager or owner, but we'll often get the staff and children trying the food too!
---
How do I pay for the meals?
Naturally, the cost of our nursery meals service will depend on the size of your business – and how many little mouths you have to feed! When you book in a tasting with us, we'll listen to your needs and discuss the best way to partner with you, taking into account any budgets you have so you can get the most out of our service.
If you do decide to partner with us, we'll then regularly check in to make sure you're getting the most out of your budget while serving up meals your little ones love.
---
I use packed lunches within my setting, can I still use apetito?
Our simple catering system allows you to easily transition from packed lunches to a hot food option. Moving from packed lunches to a hot option has multiple benefits as children are provided with nutritious hot food and the risk of allergens within lunch boxes is removed. Using apetito also provides the opportunity to generate further income for your setting - something we will be happy to discuss with you.
---
Where is your food sourced from?
Our aim is to source our food in the most ethical, sustainable way possible and in 2019 we were awarded The Queens Award for Enterprise: Sustainable Development, one of only six companies to win the award in the UK.
As proud supporters of the British food and farming industry we only source from the best suppliers who adhere to the highest standards and abide by ethical trading standards.
---
How do I place an order?
You will be provided with a login for our online portal my apetito. Here you can plan menus, review nutritional content, check allergens and ingredients and order your meals with the option to change quantities and meal choices depending on your requirements at that time. Ordering your meals takes just a few moments and can be done by anyone within your setting.
---
Delivery
---
How is your food delivered?
Food is delivered frozen in our own temperature-controlled vehicles. There is no charge for delivery, and one of our friendly delivery drivers will typically deliver your food order once a week. We can also give you a proof of temperature receipt on delivery.
---
Do you deliver in my area?
We run our own fleet of temperature-controlled vehicles across most of the country, free of charge. When you contact us, we'll be able to confirm if we cover your area.
---
Do you deliver daily?
Our service doesn't require the need for a daily delivery. As our meals are delivered frozen you get to cook exactly what you want and when you want it.
---
Allergens & Safety
---
What measures do you take to ensure your food is safe?
Our state-of-the-art, Campden Laboratory Accreditation Scheme (CLAS) compliant laboratory and strict procedures make apetito food one of the safest catering option available for nurseries. Every batch of food we cook is checked to make sure it's completely free of pathogens before it is released for sale.
Flash freezing our food enables us to do these checks and doing so also locks in the nutrition, flavour and texture of our meals, whilst also providing a longer shelf life than chilled food.
We also consistently achieve the highest level of accreditation against the BRC's Global Standard for Food Safety, conducting an audit across all our processes each year.
---
Can you support with parent concerns?
Absolutely, and we love supporting you with this. We conduct parent food tasting sessions, working in partnership with you. These sessions enable parents to both try the food and also provides an opportunity for us to answer any questions they may have. We also provide literature which can be provided to parents as both a hard copy and in a format suitable for email. These food tasting sessions provide reassurance and inform parents about who apetito are and what we do.
---
Can you support with allergens and intolerances?
We cater for many different dietary requirements including dairy, egg and wheat.
We work with every setting to create a menu tailored to your nurseries needs. We try to keep meals at each sitting the same or similar for each child so no one feels left out and there is no food envy.
We clearly highlight allergens at the point of ordering and on the meal lid to make it as simple and obvious as possible to provide safe meals for your children.
---
Cooking & Serving
---
Will I need additional equipment?
This depends on a number of key factors. During our on-site visit, we can discuss whether any equipment will be required, such as freezers and ovens. If needed, we can support and provide a range of equipment purchase options to suit all budgets.
---
How do you prepare your meals?
Each meal ingredient is selected by our team to ensure the best quality and taste. Our meals are then prepared and cooked by our qualified on-site chefs, with direction from our in-house dietitian. Each meal is then frozen within an hour to lock in nutrition, freshness and flavour.
To prepare the meals in your nursery, simply remove the meals you need from the freezer and follow the cooking instructions on the lid. Remove your meals from the oven, check the temperature, and serve!
---
Do your meals come as individual portions?
Our meals are contained within trays which typically serve 10 children per tray. Smaller trays are also available, which helps manage cost and minimise wastage. All meals arrive frozen.
---
Do you offer lunch and lighter options?
Yes. The diverse range and variety of food we offer means we can provide options for both a hearty lunch time offering and a lighter tea time option.
---
Do I need a chef?
Our meals are flash frozen and ready to put straight into the oven. This means preparation time is significantly reduced, leaving time for staff to focus on what matters – your little ones. It's so simple, anyone can help out in the kitchen – so you don't need to worry about the food, holiday cover or sickness.
---
Explore Our Nursery Meals