A world first in dementia-friendly dining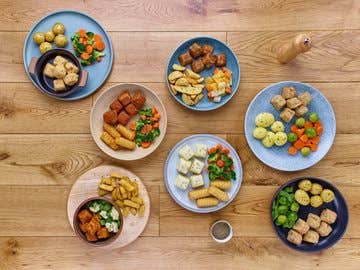 Our new Finger Foods range is an innovation in specialist nutrition, designed for those who may struggle to use cutlery, these complete meals can be picked up and eaten with minimal mess
The meals from the range provide a source of protein, a portion of carbohydrates and a minimum 80g portion of vegetables as 1 of your service users 5 a day. These meals give those living with dementia the freedom to feed themselves complete, nutritious meals with dignity.
Person-centered dementia dining
900,000 people currently live with dementia in the UK and this is set to increase to 1 million people by 2025. It is important that we are able to focus on providing those living with dementia with a mealtime solution, to help meet some of the common challenges that these people face. These include dexterity or coordination difficulties, a loss of independence and reduced dignity when dining.
Dining with dignity
Our Finger Foods help to create a positive, inclusive dining experience for those living with dementia, promoting independence and driving self-esteem.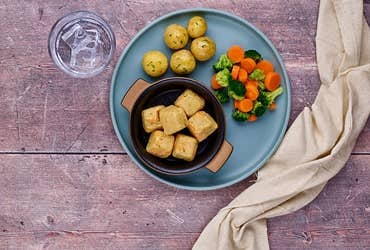 Homely favourites, without the mess
We have even designed Finger Food versions of comforting casseroles, aromatic curries, and roast dinners that would once have required assistance to eat, but can now be enjoyed independently—leaving minimal residue on the fingers.
Guaranteed nutrition
Every Finger Food meal is developed by our Chefs, Dietitian and Nutritionist to contain a source of protein, carbohydrates and a portion of vegetables, to help people to eat a variety of foods as part of a balanced diet
Providing a fully balanced diet
Each meal contains a source of protein, a portion of carbohydrates, and at least 80g of vegetables, with plenty of choice on offer to suit a range of dietary requirements.

Our perfected approach helps us meet the Nutritional standards set by the British Dietetic Association, National Association of Care Catering, and the Hospital Foods Standards Panel.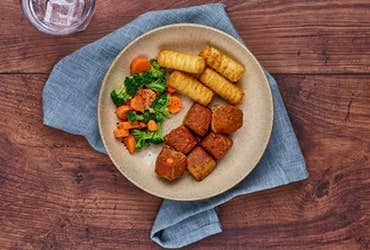 We guarantee the nutritional value of our finger food range. This ensures people who require finger foods are not missing out on vegetables, have more variety in their diet, and feel like they're eating a true meal.

Emily Stuart
apetito Dietitian
Simple and seamless
Our new Finger Foods range makes catering for those living with dementia and
dexterity issues easier and more convenient than ever.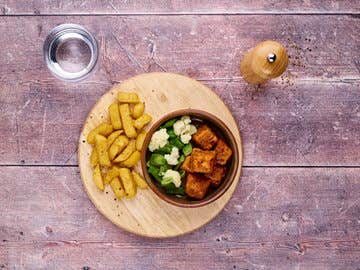 Making mealtime easier
Every meal is individually packaged in a standardised portion size, making our finger foods easy to cook and plate, and less likely to cause mess or result in wastage.
Suitable for
Hospital meals
Care Home meals