Bridgeside Lodge Case Study
Sitting right in the heart of Islington is Bridgeside Lodge Care Centre, which has given outstanding care for more than two decades to over 60 residents with complex and varied needs.
Part of the Forest Healthcare group, the Care Centre fully recognises just how important mealtimes are to residents and ensuring great food and nutrition is paramount in providing an overall excellent dining experience.
Manager of the Centre, Fatma Makola says "Food is so, so, personal. We all have different palettes and tastes and here at Bridgeside Lodge, we have a diverse range of food preferences. It's really important to us that we can cater for every one of our residents".
For many years Bridgeside Lodge had a chef in the kitchen, but this came with challenges and unpredictability and managing costs was an ever-increasing concern.
---
Making the move!
Knowing an essential change was needed in the kitchen, Fatma began to look for ways to transform Bridgeside Lodge's approach to mealtimes. Ensuring that all residents were guaranteed a full range of high-quality meals to meet their diverse dietary preferences and specialist meal requirements was of the utmost importance.
Fatma and the team chose to partner with the UK's leading care home meals provider, apetito, as their new meal provider. The service delivers high-quality prepared dishes which can be easily cooked from frozen and served in-house by the team.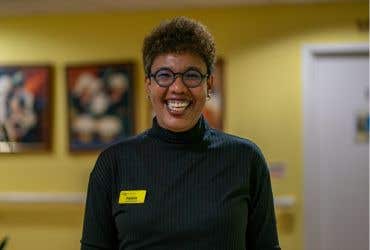 "I heard about apetito from the CEO of Forest Healthcare, so once we'd decided to make a change in our kitchen, I reached out to the team, and we set up some trial tastings. My team and most importantly, the residents and their families, really enjoyed the food and bought into the change 100%.
"The flexibility of the service, the support and the diversity of the dishes offered was exactly what were we're looking for, so we mobilised apetito's service and haven't looked back since.
---
Bespoke menus have never been so easy!
Fatma explains that in the past, catering to all their residents' tastes, preferences and dietary requirements was challenging. With apetito, she's now able to choose from a range of over 200 high-quality meals and desserts and catering for residents with who have swallowing difficulties, allergies or follow specific religious diets has never been easier.
We're a 64-bed care home but the variety of meals we need is massive. We've got residents who need allergen-free, halal, kosher, vegetarian dishes, as well as residents with swallowing difficulties who need food that meets the IDDSI framework of softer and pureed meals.
With such a wide variety of apetito dishes, Fatma's team is able to create bespoke menus based on choice, so they know they're serving meals that residents love.
"Every few months we hold a food surgery with the residents. We ask them to review the menu we've planned, and support them to tell us what they like, if there are any of their favourite dishes missing or if they want anything changed.
"Stephen, our apetito account manager will then sit down with us and help us make those changes to the menu. It's a great way to make sure we're serving food residents want to eat, which also helps to reduce food waste.
Before the move to apetito, residents living with swallowing difficulties – a condition known as dysphagia were being served blended food, which risked looking unappealing and can lack key nutrients.
"Now I don't ever worry about IDDSI compliant food" Fatma says. "Using apetito's softer and pureed food gives me such peace of mind. I know I can go to apetito and say I need this many level 4, 5 or 6 dishes, and I'll be able to give my residents food that's safe, tasty and nutritious.
"Having such easy access to safe IDDSI meals also empowers my team. If they're helping to feed someone who is struggling with their food, they can come to me and say we need to organise a referral but are able to take immediate action to make sure residents are eating food that's right for them.
---
A stress-free service

When considering commercial issues, by having apetito in place, Bridgeside Lodge has not only been able to save on staffing costs but has felt less impacted by sector labour shortages.
"In the kitchen, we've definitely been less affected impacted by staff shortages because of apetito. Stephen, our account manager has trained many of our team how to prepare the food. Whoever is interested, gets the opportunity to be trained. It's great, not only does he show everyone how to cook the dishes, but he also demonstrates to the team how to serve the meals, so they look really appetising for residents.
Since moving to apetito, mealtimes have become a lot less stressful explains Fatma.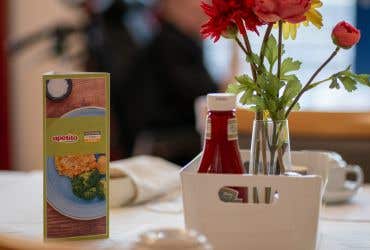 "I don't have to worry about the food in the same way anymore. Before apetito, say my chef was unavailable, we'd be challenged to find an alternative solution but now if my kitchen team are ever ill or on holiday, my team will go above and beyond to support in the kitchen and I know the trolley will still be full of all the food our residents have chosen, and our residents' mealtimes will be a seamless, relaxing experience. It takes away all the urgent planning. I don't have that worry anymore."
Ordering the food has never been easier and if any help is ever needed, Fatma knows Stephen is always there to lend a helping hand.
"Using Myapetito to order our food and organise our menus is so easy, and Stephen is always really, really helpful. If we ever have any issues or questions, he's always on hand to help us, which is great.
---
apetito is here to stay at Bridgeside Lodge
"First and foremost, the residents really enjoy the food and that's what is important to us" says Fatma. "The quality and choice of food with apetito is really good. Everything we do, we do for our residents and being able to cater for all their diverse tastes and dietary requirements so easily is wonderful.
"At first, when people hear that it's frozen food there are definitely some preconceptions but once they taste the food, they realise how nice it is. I was lucky enough to come and visit apetito and see how it produces the food, so I'm able to tell people that it is really just like cooking food at home and then in putting it in the freezer.
"Since moving to apetito. I've never had to worry about food and mealtimes. I know I'm able to cater to all my residents' needs. Having so many team members trained to know how to prepare and serve the food and knowing the support is always there if I need it, is so comforting.
"Now if I get a call from my kitchen team saying they're unavailable, I don't feel stressed - I know all the residents, no matter their requirements or tastes are always going to have a meal that's safe, nutritious and that they'll enjoy.