Community Integrated Care
Community Integrated Care
Watch our video to find out how our partnership with Community Integrated Care will make a real difference to residents' mealtimes.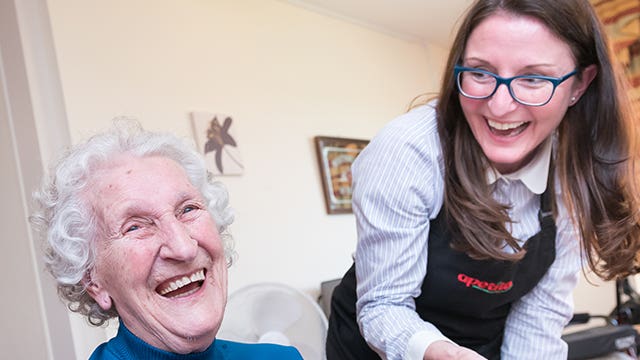 We launched our partnership at Community Integrated Care's brand new, £5m, specialist dementia home, EachStep in Blackburn.
EachStep Blackburn provides a holistic range of specialist care and support from one cutting-edge service, to assist people who live with dementia throughout their journey with the condition.
The partnership will be rolled out to 24 homes across the UK, throughout the summer, delivering an exceptional dining experience to compliment the charity's dementia service, with delicious and nutritious meals catering to all tastes, dietary requirements and needs.
Community Integrated Care commented:
"We are thrilled to have appointed apetito as our new catering providers. This move was driven by an ambition to offer people we support the highest standards of catering, and our residents and their loved ones were key to this selection process. In apetito, we have found an organisation that will offer absolutely beautiful food to the people we support, every time, making mealtimes a highlight of the day."
Key Points
apetito proudly work in partnership with Community Integrated Care to support those living with dementia
Residents enjoy tasty meals in a dining environment that's right for themapetito's meals were consistently appetising, delicious and nutritious
The Texture Modified dishes meant every resident could look forward to a great meal
Community Integrated Care is one of Britain's biggest and most successful charities, supporting over 5000 people across England and Scotland who have learning disabilities, mental health concerns, autism and age-related needs – such as dementia. The charity has been recognised for its pioneering work at the likes of the National Dementia Awards, National Care Awards, 3rd Sector Care Awards and Skills for Care Accolades.
Making a real difference
"We are looking forward to working with the Community Integrated Care team to deliver an exceptional dining experience for residents by offering meals that are delicious and nutritious, as well as making every meal time special."
-
Lisa Delaney
National Accounts Manager