Nightingale Hall Case Study
Looking for a consistent, quality-based, and cost-effective approach to meals, Nightingale Hall turned to leading meals provider apetito. Since making the move the home has found:
Flexibility to be a real benefit of the service, as they're now able to cook meals for residents outside of mealtimes with ease.
Managing costs and labour challenges are so much easier. Guaranteed costs for every meal without supply chain fluctuations.
It's never been easier to provide a wide range of safe and nutritious food for residents with dietary requirements including dysphagia for those living with swallowing difficulties. Nutritional information available for every meal at the touch of a button.
They're able to offer residents a real continuity of service, with no impact on residents' mealtimes if staff are ill or on holiday or ingredients are not available.
See below the full story of change and the successful outcomes that Nightingale is enjoying...
---
Case Study
Wellburn Care Homes can be found across all four corners of the Northeast of England. Situated in Richmond, North Yorkshire is one of its homes, Nightingale Hall. This 40-bed care home found in a Grade II Georgian-style country home prides itself on feeling like a 'home-from-home' for its residents.
Food and mealtimes are one of the things that residents most look forward to, explains Manager of Nightingale Hall, Sonia Metcalf.
"Mealtimes are a such big part of our residents' day because it gives them the opportunity to socialise with other residents in the dining rooms."
Before introducing apetito back in 2017, all of Wellburn's homes including Nightingale Hall had a team of cooks, who prepared and served food for its residents. However, they found with fresh cooked food came unpredictability, and Wellburn wanted to deliver consistently delicious and high-quality meals that were nutritious and met all the residents' dietary requirements.
So, it turned to apetito, which is the UK's leading care home meals provider and delivers high-quality, pre-prepared frozen dishes which can be easily cooked and served in-house.
At first it was a bit of a challenge getting staff and family members on board with the new service explains Sonia:
"Change is always hard, especially when it comes to food because it is so personal. At first it took a bit of time for people to get their head round the fact that the food wasn't the same as a frozen ready meal off the shelf.
"What was great was that a few members of the team joined us to do a sampling session, so our staff, residents, and their families could see and try the food. That really helped everyone to gain better understanding of apetito, the service, the quality of the food. It was a win-win as unequivocally once the meals were tasted first hand, everyone was on board."
---
Making mealtimes enjoyable
Nightingale Hall has two dining rooms, where residents enjoy a lighter lunch and main meal in the evening. Both mealtimes are pivotal parts of residents' days says Sonia.
"Mealtimes are a great opportunity for residents to get out of their rooms and socialise in the dining rooms. We believe the dining environment is enormously important and staff and I try to make it really feel as if they're going out for a meal, with music playing, so it feels like an experience to look forward to."
With a range of over 200 high-quality meals and desserts in the apetito' range, it's easier than ever to cook and serve a real variety of dishes for residents Sonia explains.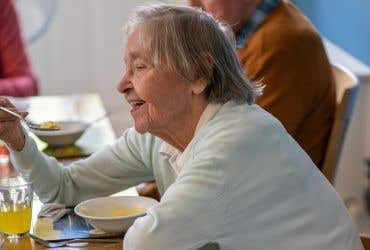 "If you imagine a cook coming in, we're not a restaurant or a hotel and if you're trying to make all the different individual dishes it's almost impossible - you can't make 50 different pots of food. But with apetito we can order smaller quantities of several dishes, so residents can have a real choice every single day to suit their individual needs. This level of personalisation has been a great benefit to residents.
"We try serve a real variety of different dishes. After we've tried new dishes, we always check how much wastage is left and that helps us know if it is worth ordering that dish again."
When putting together the menu, Sonia and her team take in lots of elements into consideration, such as the weather and seasons, which impact how residents like to eat. But most importantly they want to hear from residents.
"We also hold a monthly residents' meeting and one of the subjects we talk about is food. It gives us the chance to find out what dishes the residents like, what they're not fancying or if they want to try something new, we can then add it to our menus. It's a great way of finding out exactly what the residents really want to eat.
"The food from apetito is always very appetising but they're the meat and two vegetable generation, so they really enjoy all the traditional British fare they would have eaten in their day. Their favourites are definitely Sunday Lunch and Fish and Chips!"
---
Catering for residents' dietary needs has never been easier
An additional benefit to using apetito is how easy it is for staff to access the nutritional and allergen information of the dishes explains Sonia.
"Having access to all the allergen and nutritional information is great. My team use the app which has all the apetito dishes on it. It is so easy to just search for the dish you want and find out all about the product's nutrition and if it has any allergen ingredients in it.
"It's really useful if we have a CQC assessment or a relative visiting who wants more information about the food because it only takes us seconds to find and show them the allergen information and nutritional value of the food the residents are eating."
As a residential dementia home, Nightingale Hall has a number of residents who suffer from dysphagia (swallowing difficulties), so being able to offer safe and nutritious food is extremely important. Like lots of care homes, before apetito the kitchen team were blending food for these residents, Sonia explains.
"With blending the food, it was hard to ensure it was the right texture and IDDSI level the residents needed. It also didn't look very appealing. With apetito, the texture modified dishes are made to look like it's the actual food, which is wonderful. The Level 4 Bacon Toastie looks fabulous."
apetito provides a range of 100 texture modified dishes to ensure that residents with dysphagia can enjoy a real variety of food that is safe, nutritious, and importantly enjoyable to eat. Having texture modified dishes that don't compromise on flavour, visual appeal and most importantly, safety means that residents living with dysphagia can dine with dignity.
"At the moment we're using Level Four and Five dishes, and I think they're wonderful. It's really great because the residents who need a softer foods diet feel like they're getting the same food as other residents, even though its pureed."
---
More flexibility than ever before
apetito doesn't just pride itself of its high-quality and nutritious food but also delivering a service that really works for and helps care homes. Because the dishes are pre-prepared, flexibility is another real benefit of the service explains Sonia.
"Whenever we're ordering food, we always make sure we order a few individual portions, which are so handy to have in. What is wonderful is that all the dishes are pre-prepared and ready to go in the oven, so if someone wants something different to what we're offering on the day, we can easily cook and serve individual portions of a different dish.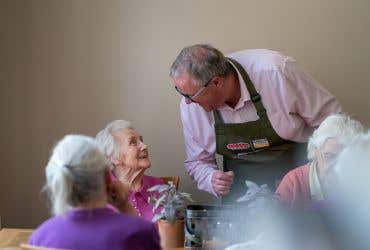 "It also means that if we have a resident who has had a hospital appointment, or gone out with their families, we can simply pop a single portion into the oven when they're back, whereas in the past we had to reheat dinner for them.
"Because of apetito we can basically do round the clock meals, so if residents miss or aren't hungry at mealtimes, we can just cook them a lovely dinner later on, which would never have been possible before."
---
apetito has helped ensure continuity of service
Nightingale Hall has not been impacted by staff shortages like many other care homes but having apetito means that if kitchen staff are unable to come into work, the team is still able to ensure continuity of service for the residents explains Sonia.
"When we first introduced apetito, we got the whole of the catering team and lots of other staff trained up on how to cook and serve the meals. So now if we ever have any kitchen staff off sick or on holiday, we've got lots of people who can jump in and help out, which is wonderful because it means we're always able to offer a consistent service to the residents.
"It even means that if other Wellburn homes nearby need some help, then I can send one of my kitchen technicians to another home and I have plenty of staff here who can help out in the kitchen."
And if there are ever any issues, Sonia knows that help is just a phone call away.
"The service we receive from apetito is great. As soon as you ring up, they're there to help. If deliveries are ever delayed, they let us know and our Account Manager Dave Dawson is very helpful. Anything we need to know he's on the end of the phone and if he can help us, he will – he's really proactive."
---
A five-year partnership still going strong
Having had apetito in place for half a decade now, the benefits of the service are clear to Sonia and her team.
"Partnering with apetito has definitely improved the dining experience for our residents. The food is more colourful and always very appetising. We're able to serve a real variety of tasty food, it's easy to cater for dietary requirements, we're able to be more flexible than ever before and most importantly, we serve dishes our residents truly enjoy.
"Simply put apetito makes mealtimes easier. The meals are pre-prepared, so it saves us time in the kitchen. The food is easy to cook and serve and we have all the guidance about what needs cooking at what time, so I can send any member of staff in the kitchen and get delicious food served to residents with no stress."