Finger Foods Bites Launch
A world-first in dementia-friendly dining
A world-first in dementia-friendly dining
Mealtimes can be overwhelming and difficult for those living with dementia or dexterity issues. They can struggle to use cutlery or cups, lose their appetite, find it hard to prepare meals and snacks, forget to eat and drink or lose concentration and wander off. This is why we've developed our innovative Finger Foods Bites to help limit all of these challenges.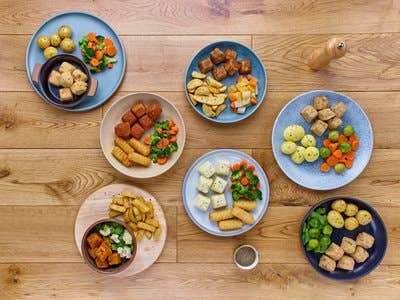 850,000 people currently live with dementia in the UK, a figure that's set to increase to 1 million people by 2025. It is important that we are able to focus on providing those living with dementia with a mealtime solution, to help our customers with leading solutions that make a real difference.
Person-centered dementia dining
One of the most common cognitive difficulties that is seen with dementia is apraxia – that's the inability of the body to respond to messages that are normally sent from the brain, such as the brain telling the hand to move a fork to the mouth*. It is unclear exactly how many service users live with apraxia and the cause is not always evident, but nevertheless it can be debilitating for the individual and has historically led to assisted feeding.
Making mealtime easier
It's for this reason that we are launching Finger Foods Bites – a new addition to our world leading Finger Foods range that helps care homes and hospitals provide a positive, inclusive, dining experience for their service users who are living with dementia.
The range features 11 dishes of Finger Foods Bites with meals including Chicken and Mushroom Bake, Salmon Supreme, and great variety provided by classic finger foods such as Pork Meatballs, Fish Goujons, Sausage Casserole and Veggie Bolognaise. We also offer a selection of plant-based, healthier choice and gluten free options.
""Whilst Finger Foods Bites may sound straightforward to develop, the reality is that that's far from the case. The components are cleverly designed and created so they melt in the mouth. Each 'bite' encapsulates the flavours of a traditional meal and for the very first time, they allow those living with dementia to enjoy feeding themselves, with no mess and with tasty meal options."

Richard Woodward
apetito General Manager - Care Homes
We've worked closely with The HICA Group, who have many residents living with dementia, trialling the new range which CEO, Terry Peel describes as "highly innovative" and said his team was 'blown away' by the range and they had 'never seen anything like it before':
"Those residents in our care were able to share a balanced nutritious meal with the rest of the dining room, without mess and their usual 'beige' buffet! and the Bites taste great too.
We're confident that our residents will clean their plates, enabling them to gain weight and dine independently with dignity. We can't wait to have these on our menu permanently."