apetito Celebrates as Chef Jethro Lawrence Makes it to National Chef of the Year Final
Award-winning apetito Chef Jethro Lawrence has made it to the Final of the National Chef of the Year competition run by the Craft Guild of Chefs.
This prestigious competition has previously been won by some rather well-known names in the culinary world including Gordon Ramsay, so getting to the Final is an incredible achievement. In fact, it puts Jethro in the top 12 of all the chefs in the country.
The former Head Chef at the 2 AA Rosette Woolley Grange Hotel and BBC MasterChef quarter finalist joined apetito as a Development Chef two years ago and works with its team of in-house Chefs and Dietitians to develop high-quality, nutritious meals its customers love.
For the Semi-Finals the Chefs were tasked with cooking one dish, which had to be vegan, based on one humble ingredient and focused on zero waste. Jethro chose carrots as his main ingredient, which he elevated to a gastronomic level and turned it into a dish worthy of a place in the Final:
"For my Semi-Final dish, I've done my version of a Tarte Tatin but with tandoori carrot. It was inspired by my time working with Simon Rogan who did a similar dish but with the classic apple.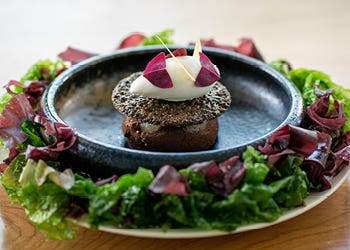 "With the cost of food rising recently, it's been great to get a bit more creative by using every part of a humble ingredient. When I saw the brief, I was very happy, as I was vegan for about 10 years and the flavour combination of this dish reminds me of meals we would have had at home."
Jethro created his Tandoori Carrot Tarte Tatin by rolling up thin sheets of carrot and baking them with a Vadouvan spiced coconut butter caramel. For the base he made vegan puff pastry to add a rich crisp texture.
He served it with a coconut-based sauce and a roast carrot broth, made using some of the leftover carrot scraps and infused with a coriander oil.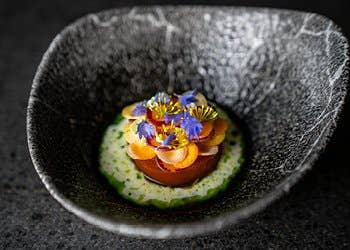 To ensure the dish was zero-waste, with the other half of the leftover scraps of the carrots, he made a carrot vinegar gel which added acidity to the dish and offset the sweetness from the carrot. He garnished the dish with a crisp salad of thinly shaved heritage carrots, from a local supplier in Bromham, Wiltshire and flowers from his garden.
Head Development Chef at apetito, Phil Rimmer added:
"We're all so proud of Jethro to have made it this far in the competition. Since joining apetito, he's brought extensive knowledge, innovation, and value to our meals' development programme, creating some really incredible dishes that customers love.
"Every single dish he's cooked in this competition has sounded incredible and the whole of team apetito is cheering him on."
The dish really impressed the Judges and secured him a place in the Final, which will be held at the University of West London on 10 October.
---
For further information please contact:
Learn more about apetito
'Lunch With' Tanya Ednan-Laperouse OBE…Learn about Guarding Against Allergens in Care Homes
apetito scores big at the British Frozen Food Federation Awards