We are incredibly excited to announce our Net Zero commitment, validated by the Science Based Targets institute.
Ethics and sustainability represents one of our core values at apetito; it is our ambition to be one of the UK's leading food businesses in sustainability.
What does our carbon commitment involve?
We have outlined a 3-step journey to becoming a Net Zero business.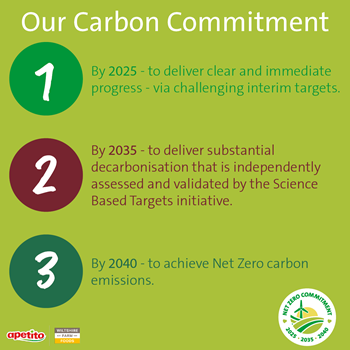 What is a 'science-based' target?
For us, a Net Zero claim without SBTi validation simply doesn't count. The SBTi approach ensures a number of things:
It ensures we focus on removing carbon from our operations, rather than offsetting our emissions.

It ensures that we include all three scopes of emissions – forcing us to address the carbon across our entire supply chain, both upstream and downstream.

It ensures that we significantly decarbonise at a rate that is consistent with Net Zero – on a 1.5 degree pathway.

It ensures that our claims are not just 'marketing greenwash'.
---
"There are undoubtedly some big challenges for the agricultural sector and the farming industries to reach net zero, but we believe passionately that this is the right way to do business and we are already making good progress on our journey."
Paul Freeston
Chair & CEO, apetito UK & North America
---
The Climate Action 100+ report includes companies which are responsible for an estimated 80%+ of all global emissions and found that whilst nearly half (43%) of companies have set a net zero by 2050 target or ambition in some form, only 10% of focus companies have net-zero targets that explicitly cover the companies' most material scope 3 emissions.
---
"From the start of our work with apetito, there has been serious commitment firstly to understanding their total emissions and secondly to detailed decarbonisation planning.
I've had a series of sessions with the CEO and other board members and working sessions with newly formed internal groups tasked with hitting short term targets for each of the emissions hotspots.
In fact, I would see apetito's approach of committing to a science based target, and then developing a clear plan, as best in class"
Simon Miller
Managing Partner, 3Keel
---
For further information please contact:
Learn more about our passion for a sustainable future