apetito's Sister Company, Wiltshire Farm Foods, Target the Zero Packaging Ready Meal
Leading the Way For a Greener Tomorrow
Did you know that in the UK we only recycle 50% of our plastic?
That why our sister company, Wiltshire Farm Foods, who have been providing delicious meals to their customers' doors for the past 30 years are targeting a zero-packaging ready meal. They've made their recycling easier than ever for their customers; their new closed-loop recycling system for ready meal trays is a world first!
So what does 'zero-packaging ready meal' mean?
We leave less than 3% of the packaging for the customer to deal with as compared to other ready meal brands.

No box

No tray

No cardboard sleeve

No insulated packaging
The only thing we leave with the customer is the film lid.
The world's first ready meal closed loop recycling system
Think back to when the milkmen would collect your empty bottles, the concept is very much the same. Once their customers are finished with their meal, all they have to do is wash their tray and hand it to their Wiltshire Farm Foods driver on their next delivery.
After this, 100% of the trays collected will be made into brand new trays, all here in the UK.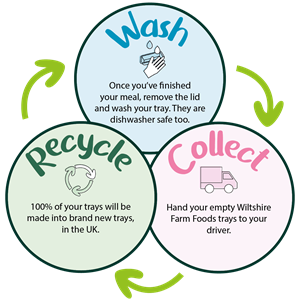 Passionate about sustainability
Our new 100% recyclable tray and closed loop recycling system are a world first. We've always been passionate about sustainability, that's why we've never used cardboard sleeves on our meals and why the boxes we deliver in are reused time and time again before eventually being recycled.
With the customers help we can save 850 tonnes of CO2e over the next year – that's the equivalent to driving 2.5 million miles in an average UK car.
Find out more here.
---
Here at apetito we are passionate about the environment, sustainability and our carbon footprint.
Find out more about how we're leading the way.
---
For further information please contact:
Leading the way to a sustainable future
Great food to be proud of